LONDON.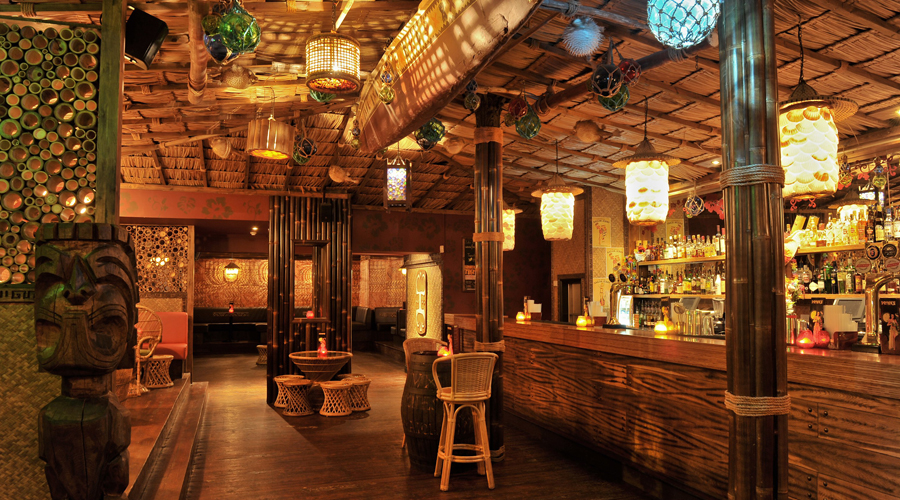 Mahiki.
Matthew Bray Heather relives a night at London's Mahiki – a fun filled joint that knows how to put on a great party.
Mahiki
1 Dover Street
Mayfair
www.mahiki.com
Ever been to a party that you didn't want to end? Well then maybe you've been here before. Welcome to Mahiki – the silly, slightly tacky and undeniably popular Polynesian paradise in the middle of merry Mayfair, London. The Tiki torches were first lit here in October 2006 and ever since then it has remained at the forefront of London's party scene.
From the minute Mahiki opened its doors, the venue was rammed with hoards of celebrities and London's socialites. This was not just another blink-and-you'll-miss-it success story – Mahiki was here to stay. Within a week of opening, the drinks themselves became as famous as the swarms of bellwethers that drank them. The Mahiki Treasure Chest, The Honolulu Honey, Coconut Grenade, and The Smoking Krakatoa were spread across the gossip columns of every British tabloid and their imbibers ranged from models and moguls to royalty and rock stars. This type of success is no mean feat, and when your cocktails are just as famous as your clientele you know that all is well aboard the ship.
Once you've made your way through the flaming torches at the entrance, you start to descend down into an underworld, filled with all sorts of A-list hoodoo. The bar is made up of two levels and the walls, ceilings, tables and chairs are all weaved from wicker. It feels as if you're swanning about a billionaire's tropical island retreat. South Pacific style woodcarvings and lengths of hardy bamboo add to the South Pacific flair, and soft glowing lanterns, fishing nets and a fine array of carefully collected trinkets are spread throughout. Low-lit lanterns and candles provide a suitably cheeky, seductive vibe that further enhances this tropical paradise and plants and flowers bloom in every possible nook and cranny, lending this addictive destination a delicate floral fragrance. The soundtrack is a mash-up of infectiously classic party tunes ranging from Frankie Goes To Hollywood to KC And The Sunshine Band, which the crowd quite simply can't get enough of.
And then there's the bar staff. Handpicked from the very best joints in both London and abroad, they go to remarkable lengths to ensure that their selection of rums, fruits and cocktails are the best of the best. The signature blend of Mahiki rums on offer are sourced, blended and bottled for them by Richard Seale's Four Square Distillery in Barbados. The juices are all freshly pressed, the infamous honey cream is cooked up on sight, and the pineapples that the pina coladas are served in are all cored by hand.
When the joint is rammed you really get a sense of what all the fuss is about. The crowds clap and cheer, looking on with sheer amazement as bar staff blow flames of rum across the ceiling. The party is alive and the cocktails are the secret springs of eternal youth from which everyone here is drinking. The key to Mahiki is really very simple and thus so successful. It's all about fun and letting your hair down. Is dancing to Disco Inferno wrong? Well if it is I don't want to be right. You'll have the time of your life, and with every single sip of the Armada Treasure Chest it just gets better and better.
Tweet
Pin It