LONDON.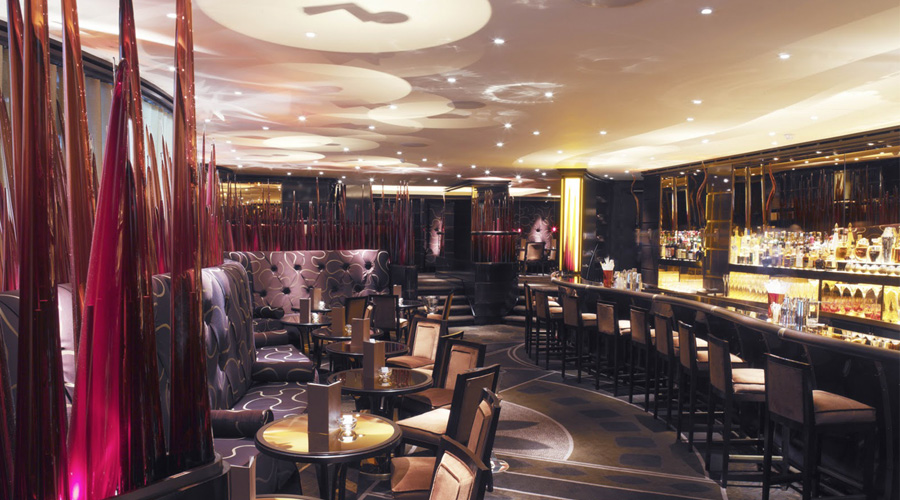 The Bar at the Dorchester Hotel.
The Bar at The Dorchester is renowned as much for its rich, opulent interior as for its menu of new and classic cocktails.
The Dorchester
53 Park Lane
Mayfair
(+44) 20 7629 8888
www.thedorchester.com
An essential institution,  and home for the last 27 years of one of London's finest bar managers Mr Giuliano Morandin. The space, as it currently stands, was designed by Thierry Despont and reopened in 2006 under the watchful eye of its master of ceremonies Mr Morandin.  Blacks, browns, creams and aubergines have been magnificently blended amongst the candy apple red of the signature glass sculptures that envelop the room. The enchanting lighting is set up so that as the evening transpires, the reflective shadows cast upon the ceiling gradually pass from one side of the room to the other.
The thick mahogany of the bar itself, which runs the left hand length of the room, stocks a ridiculous array of goodies and is engrained with tales of wonderment and whispers from some of the capitals most grand soirees. No matter where you choose to sit at the bar, you can't help but feel charmed by the magical splendour that hangs heavy in the air. At The Dorchester, no task is too great and no attention to detail too small – the carefully selected team truly understand the importance of delivering a service of the very highest calibre.
Mr Morandin's knowledge and passion for service and flavour is second to none.  The cocktail menu here is beautifully crafted and flows with a grace that shows worldly knowledge and an opulent desire to seduce an extensive myriad of palettes. Homemade redcurrant rose petal jam, and bespoke ginger infused pineapple syrups are just a spoonful of some the sumptuous flavours on offer here. Cocktail bitters are used here from London based Kiwi chemist Bob Emmons, who has been creating signature blends of his highly sought after bitters for the Dorchester for many years.
Whilst the compendium of cocktails served amidst this enchanted realm are altogether stunning, the wine and spirits list is just as impeccably well thought out, with an awesome selection that shows nothing less than thorough erudition. The glassware is utterly bespoke; Teacup topped martini glasses, multicoloured teapots used to serve "The Dorchester Tea Time Martini" in (which serves 3-4 people) and hand crafted crystal champagne flutes and foot long stemmed coupettes once again remind you that you're drinking in one of the world's greatest hotel bars. 

Tweet
Pin It