LONDON.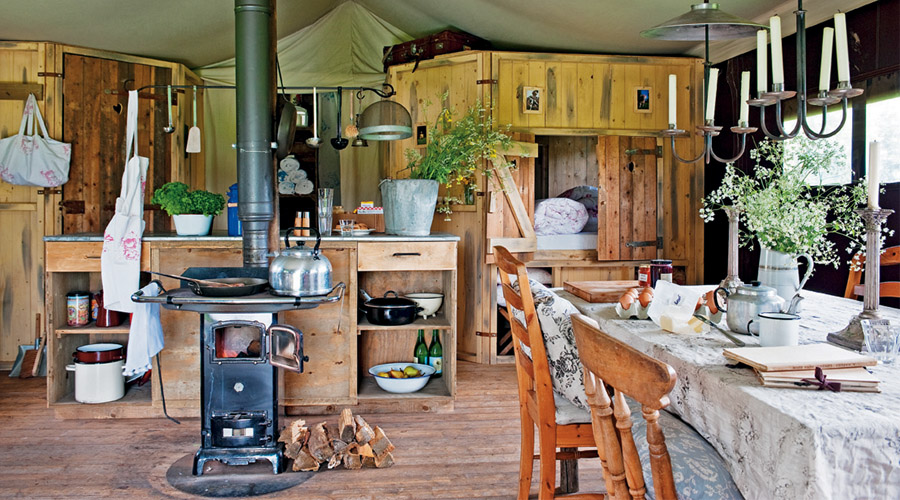 Feather Down Farms.
An escape from the fast-paced streets of London; Feather Down Farms promote a rustic luxury camping experience.
Feather Down Farms
Manor Farm
Alton
(+44) 1420 80804
www.featherdown.co.uk
It might not be in London, but it's a great escape from the city for the night. I am a real outdoorsy girl, passionate about camping: I just love sleeping on a slate thin mattress in a freezing cold, damp tent, waking up all hot and sweaty with insects, mud, drinking from giardia ridden streams… But occasionally I can be a bit of a princess, and this is why I recommend Feather Down Farms – luxury camping. Yay!
 Guests stay on a small working farm, in a delightful 'canvas tented cottage' with a wood-burning stove, wooden floors, hinged doors with heart-shaped cut-outs (cute), real beds and duvets. Heidi style.There's no electricity or hot water, and if there was, I don't think you could claim you were 'camping'. After a nice uninterrupted cosy sleep, you collect your eggs from the chicken coop, then a trip to the farm larder for bacon and milk, and back to your spacious comfortable 'tent' to make breakfast. The farmers go about their daily work tending to their livestock and produce, and guests can get involved, or enjoy the great outdoors as they please. With llama, chickens, and other farm animals, country walks and forced relaxation, Feather Down Farms maybe just what you need on your hectic trip to London.

Tweet
Pin It