MELBOURNE.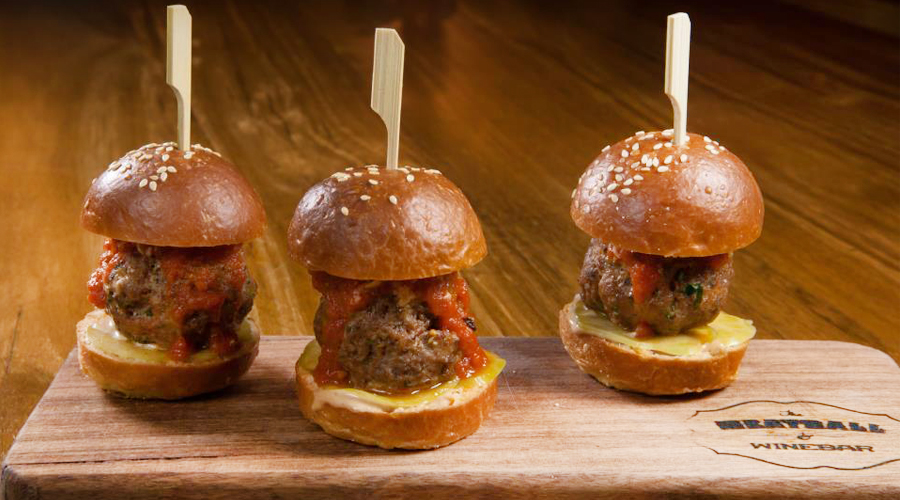 The Meatball and Wine Bar.
Melbourne's Flinders Lane welcomes a tasty newcomer into its fold.
The Meatball and Wine Bar
135 Flinders Lane Melbourne
CBD
(+61) 3 9654 7545
www.meatballandwinebar.com.au
We had heard whispers of a new joint on Flinders Lane that specialises in meat of the ballsy variety, so while in Melbourne for the L'Oreal Melbourne Fashion Festival, we made it our duty to check out this hot new addition to the Melbourne gastronomy scene.
Wandering down Flinders lane, we were greeted by a large sign with 'MEATBALLS' boldly emblazoned across it. Laid back and welcoming, the space has been given the industrial edge so popular in inner-city eateries these days, with exposed brick interior, custom-made light fittings, plenty of communal seating, theme park-esque flash bulb signage and a long copper bar.
Determined to create an artisan meatball establishment like no other, Italian restaurateur Matteo Bruno has made the most of his mother's Venetian heritage, borrowing recipes from her prized family cookbook to develop a menu with surprising variety given the focus on the humble meatball. Similar in concept to New York's own ball-centric establishment 'The Meatball Shop', every type of meaty ball you could possibly desire has been included, from pork and beef to fish, chicken and vegetable, not to mention the 'Chef's Balls' special, where some of Australia's top culinary talent share their own meatball recipe. If you're at a loss with what balls to choose, the 'Mini Balls', a selection of meats, are a standout option. We also sampled the sliders, customised with the ball and sauce of your choice and served between mini brioche buns. As expected, they were utterly delicious.
If you're looking to wash all that meaty goodness down with suitable Italian flair, the beverage list does not disappoint. Expect Limoncello cocktails, Grappa, Italian digestives and varietals as well as the ultimate aperitif, the Aperol spritz.
We were also pleased to note that Meatball and Wine Bar is open bright and early for breakfast, serving up a selection of breakfast balls as well as traditional Italian breakfast dishes if you're suffering from meatball overload.
This ballsy new addition to the Melbourne restaurant scene might be narrow in focus but it has just earned itself a spot in our culinary books, not to mention the flurry of Melbournites rushing to become a member of the 'Balls Club', the restaurants aptly named loyalty program. We suggest you visit before the line begins to snake out the door.
Tweet
Pin It