BALI.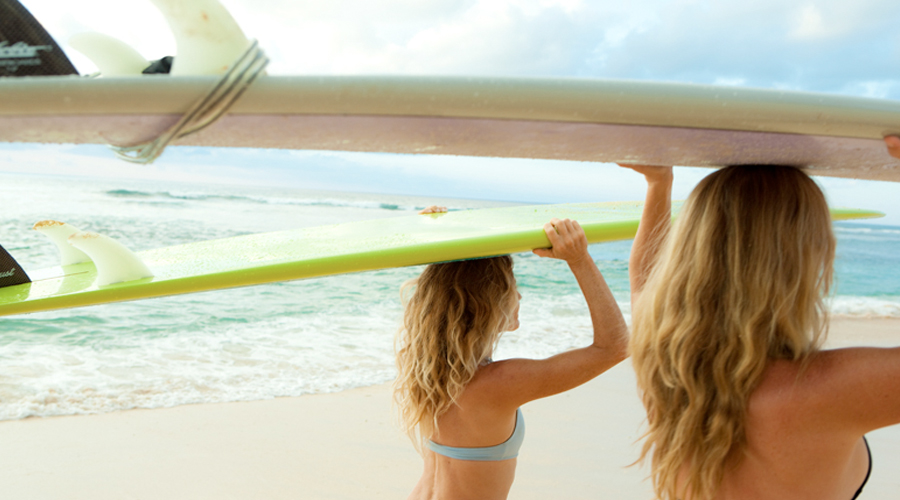 Travel: Surf Goddess Retreats.
We discover an adventurous Bali retreat set to be the perfect remedy to the summer that never was.
Surf Goddess Retreats
Jl.Laksmana
Seminyak
www.surfgoddessretreats.com
It's little wonder the mid-winter getaway is so popular, after all, there is nothing quite like swapping the familiar grey wash of winter for a tropical destination that heaves with warmth and vibrancy. Bali is one such getaway, and it's also the home of Surf Goddess Retreats, a slice of Bali heaven that is now only a smooth eight hour direct flight away, thanks to Air New Zealand's new twice-weekly Auckland to Bali service.
Created as a holiday to nurture women mentally and spiritually, Surf Goddess Retreats is, as the name suggests, surf focused, where you learn to ride waves in a luxurious haven where every need is met and nothing is too much to ask for. Focusing on one's wellbeing along with unwinding from work pressures, you will sleep in private villa accommodation, eat organic cuisine prepared by the retreat's resident chef, spend hours having spa treatments and explore the best that beautiful Bali has to offer.
We guarantee there will be no sign of cold showers and rough bedding, however, you can expect fresh fruit baskets and top-notch surf equipment. On the retreat's 'Follow Your Bliss Day' you can choose to go white water rafting through ancient gorges with lunch overlooking rice fields, or if something more serene is your thing, there is the eco walking tour through Bali's heartland or a traditional Indonesian cooking class at the five star Tugu hotel.
A rare find, Surf Goddess Retreats will be sure to instill a sense of balance back into your life. The warm Bali air doesn't hurt either.
Tweet
Pin It