TASMANIA.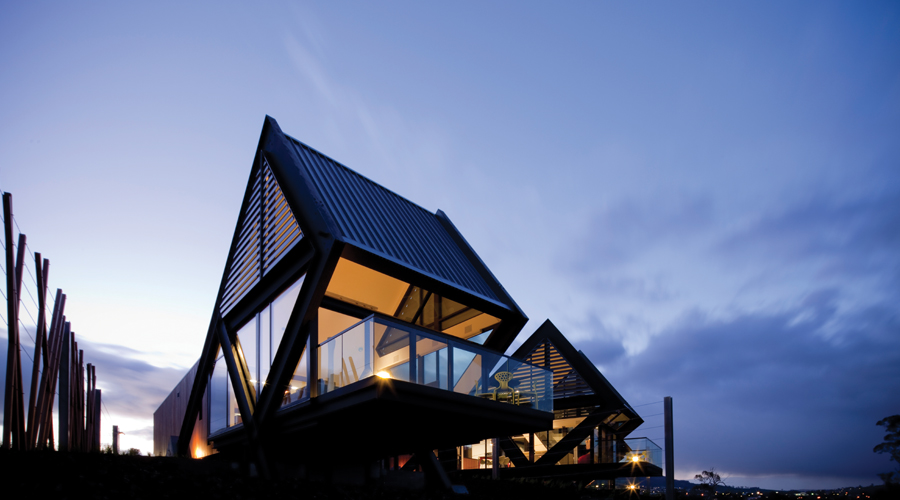 The Mona Pavilions.
An extension to their already artistic offering, MONA gives us another reason to visit Hobart.
The Mona Pavilions
651-655 Main Rd
Berriedale
www.mona.net.au
Since opening in January 2011, hundreds and thousands of tourists have been through the doors of MONA, the privately owned Museum of Old and New Art, situated on the Berriedale Peninsula in Hobart. Owned by multi-millionaire philanthropist, gambler and art collector David Walsh, MONA is never short on shock factor. A wall of porcelain vaginas competes for space next to the "Cloaca Professional" a grotesque machine that farts, craps and stinks – but it's not all nasty. Walsh's collection extends beyond the bizarre to antiques and works by well known Australian artists.
It's rare to find a gallery that caters to such a variety of works, particularly in Tasmania, a part of Australia not wholly thought of as synonymous with the avant-garde. To encourage guests to linger a little longer, the on site MONA Pavilions offer luxury accommodation in architecturally beautiful buildings.
The Pavilions consist of glass cubes that appear to balance precariously on the landscape, with some overhanging the banks of the Derwent river. Each self-contained Pavilion contains avant-garde artwork from MONA's collection which sits alongside furniture from design heavyweights such as Philippe Starck and Ron Arad. Each suite comes complete with a full kitchen and wine fridge, should you not want to enjoy the award-winning restaurant. And if you're feeling a little culturally overloaded, you can relax
in the on site gym, sauna and heated infinity pool.
Tweet
Pin It